Get Involved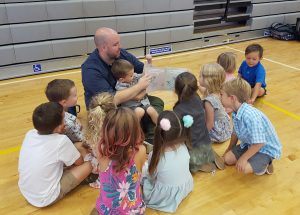 At CCDS there are all kinds of ways to support your student and our school! We value participation from our CCDS parents and know that each of you have different strengths and skills to offer. Read on to learn how you can be involved in your child's education while supporting CCDS.
Volunteer
Volunteering at CCDS is an excellent way to be involved in the education of your child in a way that also benefits the operation of the school. Volunteers can do a range of work from preparing homework packets to driving on field trips to running stations in the primary grades. Click below to learn more about volunteering at CCDS.
Parent-Teacher-Partnership (PTP)
The PTP is our parent organization that formed as a conduit for assisting teachers and administration in the organization of our parent force for the overall good of our school community. The parent community elects PTP officers once a year, and this leadership group facilitates community activities such as Harvest Fair, New Parent Welcome, family nights at various local restaurants, among many others. PTP plays an important role in facilitating a healthy and happy school community, and it doesn't work without participation from our families. Click below to learn how you can support the PTP - and support CCDS!
Donate
Click below to learn about the various ways you can financially support CCDS. Your financial support makes a difference!