What is a Charter School?
Charter Schools are public schools that provide choice within the public school system. No tuition is charged to students who attend a charter school. A public lottery is held each year for admittance into our Kindergarten program.  Please read the Charter School Fact Sheet to help you determine if a charter school is right for you!

The Charter Schools Act was passed in 1992 (Education Code Section 47601) to:
Improve pupil learning.
Increase learning opportunities for all pupils, with special emphasis on expanded learning experiences for pupils who are identified as academically low achieving
Encourage the use of different and innovative teaching methods.
Create new professional opportunities for teachers, including the opportunity to be responsible for the learning program at the school site.
Provide parents and pupils with expanded choices in the types of educational opportunities that are available within the public school system.
Hold the schools established under this part accountable for meeting measurable pupil outcomes, and provide the schools with a method to change from rule-based to performance-based accountability systems.
Provide vigorous competition within the public school system to stimulate continual improvements in all public schools.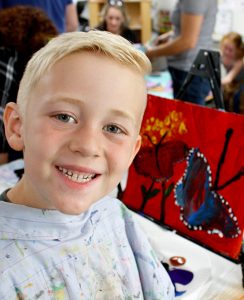 We encourage the use of different and innovative teaching methods by implementing Integrated Thematic Instruction in the classroom, using hands-on learning techniques, and integrating our entire curriculum. Our curriculum is created by teachers and is teacher-driven - teachers are responsible for the learning program and are held accountable for meeting the standards by the Principal and ultimately by the Board of Directors.
From the California Charter Schools Association website:
A charter school is a public school.
A charter school can provide instruction from kindergarten through 12th grade.
Charter schools are typically created by a group of parents, teachers, administrators, community leaders or a local community-based organization.
Charter schools are created when a group of parents, teachers and community leaders petition a local school board or county board of education for a charter to open an independent school in their community.
See full website at Charter Association Website
Common Questions and Answers about Charter Schools:
Q: WHY ARE THESE SCHOOLS CALLED "CHARTERS?"
A: Charter school operators set forth their goals and operating procedures in a contract that is reached with the local school district, county board of education or the state. This contract is called a "charter."
Q: WHO PAYS TO OPERATE CHARTER SCHOOLS?
A: You pay to operate charter schools through the taxes you pay. Charter schools receive their funding directly from the state of California.
Q: HOW ARE CHARTER SCHOOLS GOVERNED?
A: Charter schools have their own boards of education and operate independently of local school districts. Local schools districts and county boards of education, however, have an oversight responsibility over charter schools and review the progress of charter schools. Local school districts, county boards of education and the state can revoke charters.
★A charter school is generally exempt from most laws governing school districts, except where specifically noted in the law.
Q: HOW DO WE KNOW IF THE STUDENTS ARE DOING WELL AT CHARTER SCHOOLS?
A: Charter schools in California are required to participate in the statewide assessment test, called the STAR (Standardized Testing and Reporting) program. Charter schools are accountable to their sponsor -usually a state or local school board- to produce positive academic results and adhere to the charter contract. The basic concept of charter schools is that they exercise increased autonomy in return for this accountability.
Q: ARE CHARTER SCHOOLS PRIVATE SCHOOLS?
A: No. All charter schools are public schools. The charter law prohibits the conversion of a private school to a charter school.
Q: CAN CHARTER SCHOOLS TEACH RELIGION?
A: No. Charter schools must be nonsectarian in their programs, admission policies, employment practices, and all other operations.
Q: DOES IT COST EXTRA TO SEND MY CHILD TO A CHARTER SCHOOL?
A: No. Charter schools may not charge tuition and may not discriminate against any pupil on the basis of ethnicity, national origin, gender, or disability.
Q: HOW MANY CHARTER SCHOOLS ARE THERE?
A: There are currently more than 500 charter schools operating in California, serving about 180,000 students. There are more than 1 million students nationwide attending 4,000 charter schools nationwide. The number of students attending charter schools is increasing at a rate of about 15 percent a year in the United States.
Q: WHY CHARTER SCHOOLS?
A: Public charter schools offer an important and timely public school option to address the challenges facing our traditional education system. Charter schools are an exciting and high-potential alternative for the following reasons:
Most efforts to reform high-need public schools in California have failed. Charter schools provide parents the opportunity to offer real input in their child's education.
Charter schools give educators freedom to try new strategies to inspire student achievement.
Charter schools, less encumbered by the bureaucratic barriers that face other public schools, have the potential to spark system-wide change.