Middle School Sports
CCDS is proud to offer an athletic program for our 6-8th grade students. The CCDS Eagles are proud competitors in volleyball, basketball and cross country. If you have questions on our sports programs, please contact our Athletic Director, Jordan Williams.
A Sports Release and Athletic Waiver must be submitted annually for each sport your student participates in. These forms will be made available prior to each sports season, and can be returned to the middle school office or to your coach directly.
Please refer to our sports calendar for scheduled practices and games for all sports:
Volleyball Program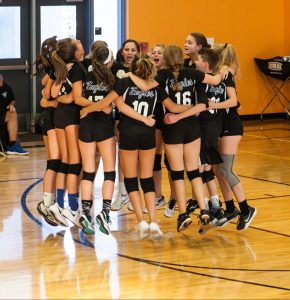 Volleyball season takes place in the fall of each school year. This is a co-ed program open to 6th-8th graders. Our coaching team includes Amber Ghidossi, Jamie Engel and Taylor Bender.
Please refer to the Middle School Volleyball Sports Policy below.
Cross Country Program
The CCDS Cross Country Running Program is a coed program for 6th-8th grade students. Cross Country takes place in the fall, led by our coach Michael Brown. 
Basketball Program
The girls basketball program takes place in the fall, led by coaches Luke Buyert and Steve Williams.
The boys basketball program takes place in the spring, led by coaches Kory Kiesling and Jordan Williams.
CCDS Interscholastic Sports Eligibility
Academic Eligibility
Students must maintain a 2.0 GPA and not have any failing marks

Grade checks will commence when a sport begins. Following grade checks will be on the last day of each calendar month.

Probationary status means that a student is still on the team and must attend all practices, but is ineligible to participate in competitions until the student is academically eligible.

After a two week probation, if a student is still ineligible, it is the coach's discretion as to how long the athlete will remain on the team.

If an athlete begins a semester after completing the previous semester below a 2.0 or with any failing marks (including the previous school year), he/she will be placed on an Academic Contract and will have grades checked every two weeks for the duration of the season and must remain academically eligible.

Coaches/Athletic Director may give a grade/behavior check at any time.  If the results are not satisfactory, this may affect play time.