Volunteer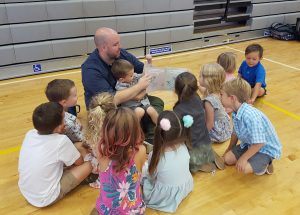 We love parent volunteers at CCDS! Whether you want to work in the classroom or join a field trip, we appreciate your help. Please review the volunteer requirements below for our various levels of parent involvement. Student, staff and parent safety is our priority. At this time we are not requiring proof of COVID-19 vaccination. CCDS complies with local and state COVID safety protocols and we may adjust our COVID precautions as needed.
The Volunteer Handbook
If you wish to be a volunteer at CCDS, this handbook will help you get the most out of your volunteer experience and ensure you are an informed volunteer:
The Volunteer Handbook
Working in the Classroom or On Campus
What do I need to work on campus or in the classroom?
Annual Volunteer Agreements (Statement of Confidentiality; Affidavit Confirming No Criminal Record; Study Trip Procedures; Health/Illness Agreement)
A negative test for tuberculosis within the past 4 years. Certificate must be on file in the school office. If you need to have a skin test completed, we recommend

Paramex Screening Services

- please visit their

website

for more information. A TB test must be renewed every four years. Individuals may qualify to complete a

TB Risk Assessment Form

instead of a TB skin test. This form must be completed by a healthcare provider - please work with your provider to see if this is an option for you.
Field Trip Volunteering
What do I need to CHAPERONE on a field trip?
All of the requirements for volunteering in a classroom/on campus PLUS:
Chaperones must be at least 18 years old and must be cleared through the Department of Justice Live Scan. The Live Scan is a one-time event and is not transferable from other agencies — for as long as your child is enrolled at CCDS or the CCDS Preschool. Please refer to THIS DOCUMENT

 for more information and to download the Live Scan form

A completed Chaperone Field Trip Participation Form is required per field trip. This will be distributed by your child's teacher.
What do I need to DRIVE on a field trip?
All of the requirements for being a chaperone PLUS:
Volunteers must be 21 years old or over and possess a valid California Driver's License.

A complete Annual Volunteer Driver Form, which will include a copy of your driver's license and a copy of your current insurance policy declaration page.

Study Trip Procedures Form must be reviewed and signed
How to Complete Volunteer Forms
In an effort to reduce paper waste, all of our volunteer forms are digital. Click on each of the links below to get started.
Questions? Contact Stacy Ferguson at sferguson@chicocountryday.org with any questions regarding our volunteer process.