The Application Process
CCDS endeavors to accommodate all students who apply for admission; however, because applications for admission exceed the number of spaces available, CCDS uses a computerized random selection process to determine admission status and the waiting list. Spaces are allocated to form a student body that reflects the demographics of the region in which the school is located.
Your application to enroll at CCDS is always welcome! While the 2023-24 school year is already underway, your application is still encouraged. Completed applications will move directly to our waiting list. See our How to Apply section below for instructions on submitting your application for enrollment.
2024-25 Enrollment
Key Dates:
November 14, 2023 - Application window opens
February 28, 2024 - Application window closes
March 6, 2024 - Random selection takes place
Upcoming Events
We offer several enrollment events in the fall and winter and encourage you to attend an event to get a firsthand look at what makes CCDS so special. If you are inquiring about the 2024-25 school year please sign up for one of our events below:
Campus Tours
Wednesdays from November-February at 8:45 am
A campus tour is an ideal way to see us in action and gain a better understanding of how we learn at CCDS.
Please use THIS FORM to register.

Middle School Open House


Tuesday, 1/23 from 6-7 pm
Incoming and prospective middle school families, this event is for you. Our middle school is a special place, and the best way to see that is to attend our info session. Meet our teachers, tour our facility, and get a glimpse of middle school life at CCDS. Please use THIS FORM to register.

Admission Information Night


Wednesday 2/7 from 6-7 pm
This general session is intended for anyone interested in learning more about Chico Country Day School. Hear from our administrators and learn about our admissions process. This is your opportunity to experience our school's project-based model and all the ways CCDS offers a unique approach to learning.
Please use THIS FORM to register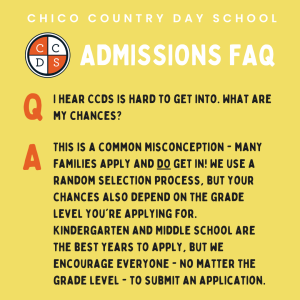 How to Apply
CCDS conducts our admissions process through School Mint. School Mint can be accessed here, from the Apply Now button on our website homepage, or through the School Mint app available at the Apple Store / iOS or Google Play / Android. 
Please note, CCDS cannot meet and discuss applicants who are on the waiting list. If you have a child on the waiting list, please know that you will be contacted if your child is selected. Your waitlist number will be available to view in your School Mint account. You can log in to School Mint at any time to view any updates to your child's position on our waitlist.
Kindergarten Applicants
A child must turn 5 years old on or before September 1, 2024 (EC Section 48000[a]). We do not make exceptions to this rule.
TK Applicants
A child must turn 5 years old between September 2, 2024 and June 2, 2025 (EC Section 48000[a]). We do not make exceptions to this rule.
Contact
Valerie Long is your contact throughout the admissions process:
Email: vlong@chicocountryday.org
Phone: (530) 895-2650 ext 870
Fax: (530) 895-2646