Middle School Program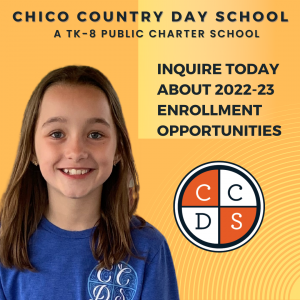 Our middle school is an exciting part of our TK-8 school. While we connect with the TK-5 campus regularly, students also have an opportunity to develop with their middle school peers in our dedicated 6-8th grade building.
If you interested in applying for CCDS Middle School, please visit our Admissions page.
Daily Schedule
Our middle school students have six class periods per day. Through the course of each day, students have English, math, science history and PE. Students will also take an elective class each quarter and will be a part of an Advisory group. As students move into middle school, the academic rigor increases while also maintaining high levels of support for students to find success.
Electives: Students have a choice of electives for the 55 minute period at the end of the day on Tuesday, Wednesday, and Thursday. We offer one of the most varied and dynamic elective programs in the area. Courses include: Robotics, Improv, Cooking, Engineering Design Challenge, Creative Writing, Entrepreneurship, Fitness, Civic Engagement, Garden, Theater,  3-D Computer Design, Art, Sewing, Hands-on Science Lab, Guitar, Teaching Assistant, Yearbook, and Leadership. We typically offer 9-10 choices per quarter, making the class size about 17-23 per class.
Advisory: On Fridays before lunch, our 6th-8th grade students meet in Advisory groups. There are about 15 students in each group, made up of five students per grade level. Students stay with that same group for the three years they are in middle school. The purpose behind advisory is for students to connect across the grade levels in meaningful ways and to have an adult on campus who knows them well. Activities include: team-building, discussion of life skills, connecting across grade levels about the middle school experience, supporting each other, walking downtown for lunch together on occasion, advisory-wide kickball tournament, and additional connection-building activities.
What Makes Us Unique?
Technology
CCDS is considered a local leader in technology education and application, and that continues through the middle school grades. We currently have 1:1 chromebooks for student use. All classrooms have large TV screens; teachers use document cameras and computers to display on the TV.
Community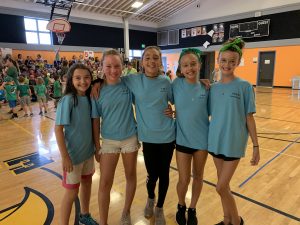 There is a community feel to the middle school. It is supportive and also solidifies many of the skills students have been practicing K-5, like the life skills, innovative thinking, and creative problem solving. We aim to know students well, develop their ability to think deeply and critically, and prepare them for an ever-changing world. Middle School offers Back to School Night, Exhibition Nights, report card conferences (student-led), and has some additional activities: pep rallies, middle school dances, and school sports teams including Volleyball, Cross Country and Basketball.
Learning Beyond the Classroom
CCDS students have many opportunities to gain knowledge and skills beyond the walls of traditional classrooms through a wide range of study trips and on campus immersion activities.  Take a look at a few of the experiences our middle school has offered—
6th grade: A highlight for sixth graders is Eagle Environmental Camp in the spring, which was designed by Susie Bower to provide the most authentic and meaningful experiences for our students. The content is rich, including instruction by university professors and environmental scientists. Leadership, sustainability, and students' impact on their world are all focus areas for environmental camp. And, consistent with the primary school experience.
7th Grade Natural Science and World History Trip to San Francisco: Students visit the Academy of Sciences, Botanical Gardens, de Young Art Museum, and the Japanese Tea Gardens.
8th Grade Civil War Simulation on Angel Island- on Angel Island: Students experience life as a Civil War soldier stationed at Camp Reynolds, Angel Island. Ashland Shakespeare Festival:  A Renaissance unit in History class and a Shakespeare unit in English class culminate with a trip to see a live performance in Ashland, Oregon.
Admission
If you interested in applying for CCDS Middle School, please visit our Admissions page.