Parent Advisory Council (PAC)
Our Parent Advisory Council (PAC) is a group of volunteers and staff who support school events and celebrate all that is wonderful about student learning here at CCDS. This group has a strong connection to the decision-making at the school, advising the LCAP, fundraising, community-building, and overall family engagement.
Attend Our Meetings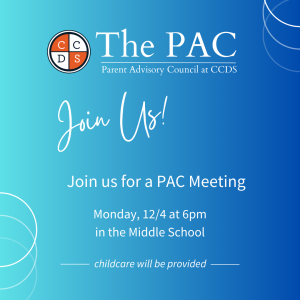 Our next PAC meeting will be held on Monday, October 2 at 6pm in the Middle School. Childcare will be available for those who need it.
We plan to hold future PAC meetings on the first Monday of every month, through June.
---
Upcoming Events
There's a lot going on at CCDS! Check this page often for PAC-sponsored events:
---
PAC Purpose and Goals
The key features and goals of the PAC are:
Inclusivity: We want to ensure that every family feels welcome and valued, regardless of their background, language, or level of involvement. The PAC will provide various entry points for families to engage with the school. Although it is named "Parent" Advisory Committee, we embrace a broad and open definition of parent and invite all CCDS families to join.
Collaborative Decision-Making: The new structure will encourage active participation from families, teachers, and staff in shaping school policies, programs, activities, and fundraising. We believe that diverse perspectives will lead to better outcomes for everyone.
Holistic Support: The PAC will embrace a whole child focus, not only on academic success but also on the social, emotional, and physical well-being of our students.
Community Building: We aim to strengthen our school community by directly organizing events, workshops, fundraisers, and initiatives that bring families together. Building a strong support network is essential for the success of our children.
Transparency and Accountability: The PAC will maintain clear communication channels including regular reports to the CCDS Board of Directors to ensure that financial donations, decisions, and actions are transparent and accountable to all stakeholders.
The partnership between families and schools are the foundation of the meaningful work we can do with students. We are eager to have you join us in whatever ways you are able and look forward to your input!
---
Meet our Team
Everyone is invited to attend any and all of the PAC meetings. We will update this page with our team leads soon, which will be a combination of CCDS staff members and families.