Preschool
Preschool Registration Information for Fall 2023-24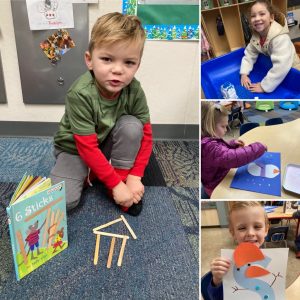 OPEN PRESCHOOL ENROLLMENT for our preschool program is happening NOW!
  Enroll your child for our Fall 23/24 school year, which begins August 2023. Information on our classes can be found below. Call 895-2650 ext 871 or email
kcooley@chicocountryday.org
to begin the enrollment process. Leave a message with parents name, phone number, child's name and DOB and you will receive a call back to complete your registration.
Our Preschool Director, Kerri Cooley, is your contact for any preschool related questions:
Email: kcooley@chicocountryday.org
Phone: (530) 895-2650 ext 871
Cell: (530) 608-4806
---
Classes for Fall 2023-2024
Funny Frogs
M/W/F
8:30-
11:30 a.m.
4 & 5 year olds
$320/month
Brave Bears
T/TH
8:30-
11:30 a.m.
4 & 5 year olds
$250/month
Mighty Monkeys
M/W
12:30-
3:00 p.m.
3 year olds
$245/month
Lucky Ladybugs
T/TH
12:30-
3:00 p.m.
3 year olds
$245/month
---
OUR PRE-K CLASSES
must turn age 4 by 9/1/2023
Our Pre-K classes are the Frogs and Bears. These classes offer:
Low teacher ratio which allows for more attention on each child, especially when extra help is needed.
Instruction based on the Learning Without Tears program, which most Chico Unified and CCDS classrooms follow well into third grade. It is an early path that provides hands-on instruction for writing strategies and letter recognition to develop at an age appropriate level.
Two small groups/stations a day where we concentrate on enhancing kindergarten skills such as letter/number recognition, printing, cutting, following directions - all while increasing their attention span.
Pre-K classes develop literacy, language, math skills, and social skills while also giving more time for emotional growth before the transition into a full day class.
Pre-K provides the opportunity to still learn through play. Research shows that playful experiences prepare children for "deeper learning."
Pre-K gives the children time to progress in their important physical development- enhance fine motor strength and skills, large gross motor skills and coordination before entering a full day classroom setting with independent stations.
OUR PRESCHOOL CLASSES
must turn age 3 by 9/1/2023
Our Preschool classes are the Ladybugs and Monkeys. These classes offer:
Introduction to a classroom setting with rules and expectations.
Experiencing time away from grown ups- to help learn school is a safe and fun space.
Introduction to peers and friendships.
Learning through play, music and art.
Learning to listen and follow directions.
Helps transition into our Pre-K classes the following year more successfully because there is a better understanding of what is expected in a classroom setting.
---
Program Goals
The goals of the CCDS preschool are to create a preschool that:
Offers small, individualized class size with a low teacher-to-student ratio
Provides a safe, joyful environment that celebrates learning through multi-sensory hands-on activities
Encourages children to discover their environment, learn new skills and concepts, engage in activities and gain independence
Stimulates creative expression through art, drama, music, dance and movement
Welcomes parent participation to create a partnership in learning
Supports children in becoming lifelong learners with a positive self-image
---
Daily Activities
The following is an example of activities throughout the day, although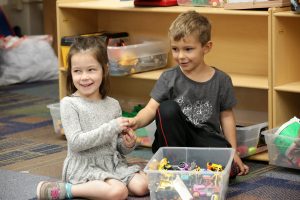 the class structure does vary based on the children's needs and the time of year, among other reasons. The morning and afternoon classes follow the same basic structure: For More InformationTo learn more about our Preschool program, please contact our staff: Kerri Cooley, Patty Currie, Katlin Redding at 895-2650 ext. 824 or email the preschool here.
| | | |
| --- | --- | --- |
| Snack | | 9:15 to 9:30 a.m. |
| Small Group/Centers | | 9:30 to 9:45 a.m. |
| Outside Play/Exploration | | 9:45 to 10:15 a.m. |
| Music & Movement | | 10:15 to 10:30 a.m. |
| Small Groups/Centers | | 10:30 to 10:45 a.m. |
| Exploration/"Choice" time | | 10:45 to 11:15 a.m. |
| Clean up/Closing Circle | | 11:15 to 11:25 a.m. |
| Goodbye's | | 11:25 to 11:30 a.m. |