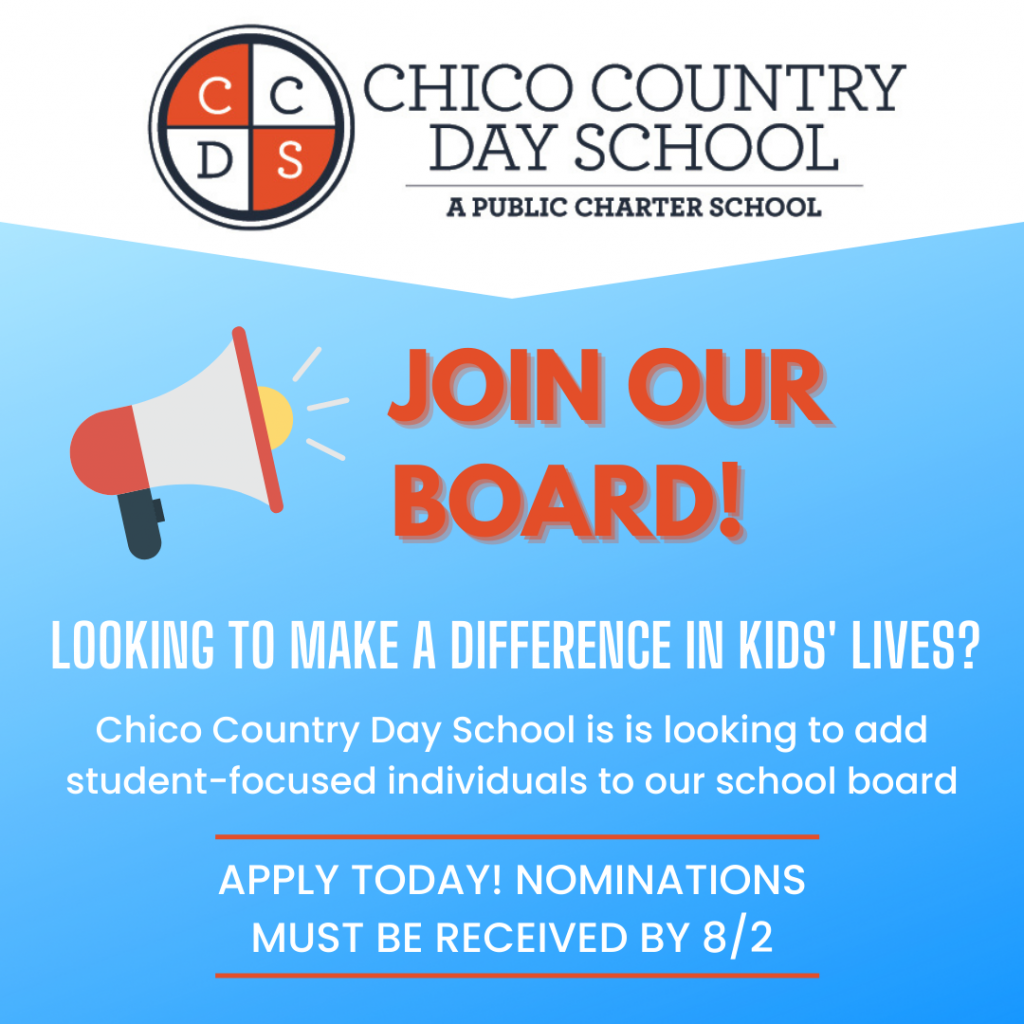 Why serve?
Board members have a tremendous opportunity to invest their time and energy in a cause that has transformative power: education. Serving on our Board of Directors is a meaningful opportunity to contribute and offer new or different viewpoints and experiences. Boards need diverse perspectives and voices!
About our Board
The CCDS Board of Directors meets quarterly throughout the school year.  The meeting agenda for these regular meetings are posted in the school office window and on the CCDS website 72 hours in advance.  If the need for a special meeting arises, the agenda will be posted in the school office window and on the CCDS website 24 hours in advance, in accordance with the Ralph M. Brown Act.
You may mail our Board of Directors any time at boardofdirectors@chicocountryday.org
Below are the scheduled meeting dates for the 2022-23 school year:
Wednesday, August 10, 2022

Wednesday, September 14, 2022
Wednesday, October 19, 2022
Wednesday, December 7, 2022
Wednesday, February 15, 2023
Wednesday, March 8, 2023
Wednesday, May 10, 2023
Wednesday, June 14, 2023
Public Input
Public input on specific agenda items and those items not on the agenda:
The CCDS Board of Directors welcomes and encourages public comments.  Any person of the public desiring to speak shall be allowed to speak during public comment time and has the option of speaking once on any agenda item when it is being discussed.  Speaking time shall generally be limited to three minutes, unless a longer period is permitted by the Board Chair.
Special Needs
If you have special needs because of a disability, which makes it difficult for you to participate in the meeting, or you require assistance or auxiliary aids to participate in the meeting, please contact the CCDS office at 530.895.2650.  CCDS will attempt to accommodate your disability.
Responsibilities of Board Members
TERM:  Three years if elected by the Board, (or if in the case of filling a vacancy, the remainder of the term being filled).  Two time renewal.
STRUCTURE:  The board should have a membership that includes diversity in the areas of age, ethnicity, gender, experience, and knowledge.
Functions of the Board of Directors:
PROGRAM:
Participate in the development of goals and objectives
Establish policies
Participate in the strategic planning process
Participate in fundraising activities
FINANCE:
Approve annual budget and monitor financial management
Approve special funding projects
Approve new projects and programs
Establish financial policy
ADMINISTRATION:
Participate in evaluation of the school and of the Executive Director and Principal
ORGANIZATIONAL:
Elect officers and nominate candidates to fill vacancies on the Board
Amend bylaws of organization, as necessary.
Specific Responsibilities of Board Members
Attend all regular and special meetings of the Board
Attend committee meetings as necessary
Attend Board retreat
Attend events such as the Annual Auction
General Responsibilities of Board Members
Provide leadership and discussion in board deliberations
Be conversant about CCDS
Be in a position to support policy and programs in informal settings
Effectively communicate the school's success and programs
Be politically aware in regard to charter school issues
Actively engage in school fundraising
LIMITATIONS:
Directors should not interpret school policy in self interest or use their position for personal gain.
No director can legally obligate the school.
Directors should not usurp authority of school administration