TK-5th Grade Program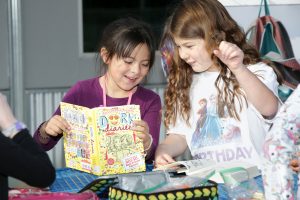 While we are a TK-8 school, our TK-5 and 6th-8th grade programs offer unique elements for students at each developmental stage. All students from Kindergarten through 8th grade learn through the teaching methods of Project Based Learning. Below are specific details about each of the TK-5th grade programming.
Specialist Time: Art, Music, STEM, and PE
We offer a unique program of Specialist Teachers who enhance and bring Project Based Learning to life for our students. In grades TK-3, students spend two hours per week in one of three specials: Art, Music, or STEM. These classes rotate every six weeks, and students have each class for two sessions per year, or a total of twelve weeks per school year. The student work created during this time is often the product that will be showcased during student Exhibitions of Learning. In grades 4 and 5, students have three hours of specialist time per week: one hour per week with a credentialed PE teacher, and two hours per week of either art or music. Art and music for 4th and 5th grade rotate on a quarterly basis, giving kids 18 weeks per year of these classes. While students are in their specialists classes, teachers have an opportunity to collaborate as a grade level team, planning and implementing meaningful project
Technology
Students on the elementary campus use technology in many ways to bring their learning to life. We are a Google for Education School which means that our students have access to Google Drive and all the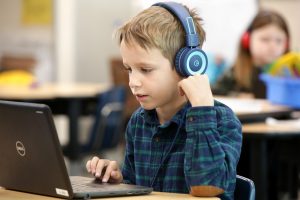 Google Apps to help support learning, collaboration, and sharing of their work. Primary grade students have both iPads and Chromebooks to use for the creation of artifacts, utilization of educational apps, and curation of a digital portfolio. Classrooms in 4th and 5th grade have 1:1 student Chromebooks for use. Our teachers enjoy staying atop the most current available technology, attending and presenting at conferences, and bringing this expertise to their students.
Buddies and Project Peers
An advantage to being a TK-8 school are all of the opportunities to connect students across the grade levels. From the beginning days of CCDS, we have always valued this time together in cross-aged peer groups. Buddies meet regularly to share in projects, celebrate their learning, and connect with a friend in a different grade. In addition to the informal and fun Buddy Time, we also utilize cross-age Project Peers. When Project Peers meet, they may be offering critique and revision ideas for a writing piece, helping with the product for a semester-long project, or helping students prepare for Exhibition. In all cases, we all benefit from the cross-age relationships throughout campus!
Social-Emotional Learning
Integrated throughout our curriculum are the Habits of Scholarship, which are explicitly taught and seen throughout their academic learning. We also supplement this with a program called Second Step as a way of teaching conflict resolution, processing of feelings, and friendship skills. Many of our teachers support Mindfulness for their students, using a combination of their own practices and the MindUp curriculum. The adults at CCDS know that the best way to teach students is to create a safe space where they can engage in the challenging academic work before them. By knowing their students deeply, teaching these key life skills, celebrating successes, and supporting social-emotional learning, CCDS students are prepared to take on the challenges in the world ahead.
Wonder Wednesday
One very special activity on the TK-5 campus is called Wonder Wednesday. During Wonder Wednesday, all TK-5 teachers and support staff offer engaging activities and students are free to come and go to different activities of their choosing. Past activities have included Imagination Playground, Karaoke, friendship bracelets, sewing, Ultimate Frisbee, origami, blanket forts, Play-Doh, Cardio-Drumming, Jam Session in the music room, old fashioned photo booth, and more! The highlights of Wonder Wednesday are the freedom that students experience as they travel to their chosen activities, the chance to work in different rooms and connect with new teachers, and opportunities to interact with a variety of peers. We love Wonder Wednesday!
Field Work
An integral part of the student experience at CCDS are opportunities to go off campus and learn in the field. Field work varies by grade level and the trips may adjust year-to-year based on the projects, but getting kids out into the world is a foundational piece of what we value for students at CCDS. Most grade levels take three to five off campus learning trips per year, utilizing the local area resources, Chico State, and other learning sites.
Admission
If you interested in applying for CCDS Middle School, please visit our Admissions page.